Karmendra Kohli, an MCA (Masters in Computer Application) graduate from Odisha, started his career as a trainee internet and security consultant at a company in Hyderabad for a monthly salary of Rs 1,000 in 2001.
Five years later, he launched his own cyber security company, SecurEyes Techno Services Pvt. Ltd, along with Seemanta Patnaik, a childhood friend and MCA batch mate from Utkal University.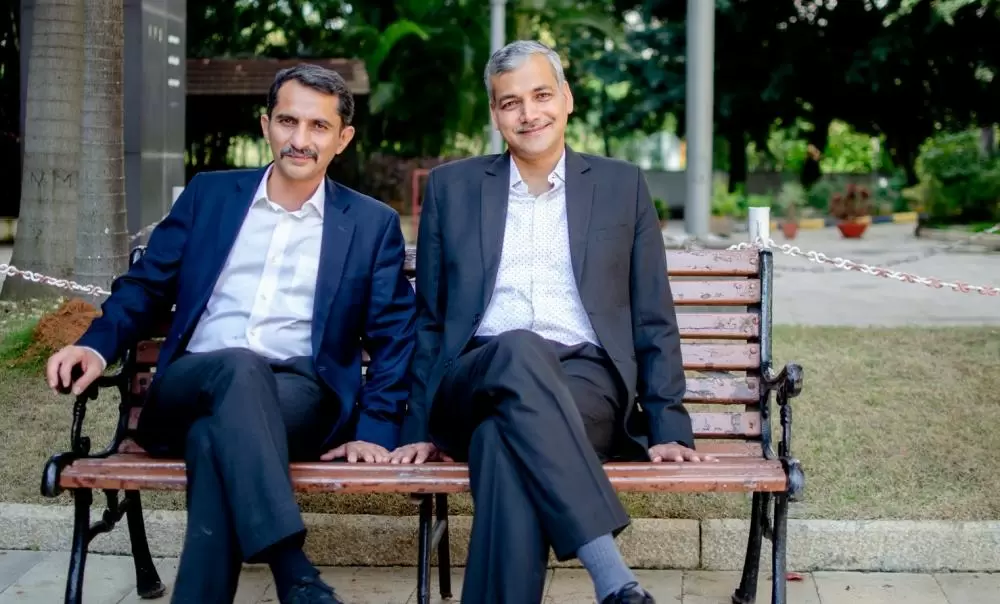 Karmendra Kohli (left) started SecurEyes along with Seemanta Patnaik in 2006 from Bengaluru (Photos: Special Arrangement) 
The duo invested Rs 8 lakh from their personal savings to start SecurEyes in 2006 from Bengaluru. The company's turnover touched Rs 50 crore in the last financial year.
"Right from our college days I and Seemanta had a burning desire to start our own company. We decided way back in 2001 that the name of our company would be SecurEyes," says Karmendra.
After completing their MCA from Utkal University, Bhubaneswar, in 2001, they took up jobs in different companies. In August 2005, both quit their respective jobs and did the groundwork to launch SecurEyes the next year.


Seemanta was working for SONY, Japan, as a systems developer, when he quit his job. Karmendra had left his job in the US, where he worked as a technical consultant for an Indian cyber security company.
"We started SecurEyes with just the two of us and four employees," says Karmendra. Today, with 700+ globally served customers, 14000+ app security assessments, and 200+ employees worldwide, SecurEyes has carved a niche for itself in the cyber security space.
Karmendra is the CEO and Seemanta is the CTO of SecurEyes, which has offices in Bangalore, Bhuvaneswar and Riyadh. They operate in about 12 countries.
About 50 people work from their Riyadh office. Their Bengaluru office is located in a 5,000 sq ft single floor area at Sigma Soft Tech Park in White Field.
The founders with Uma Pendyala, Head of Business Operations
SecurEyes operates in three areas of cyber security – consulting on cyber security, product development, and training in cyber security skills.
They check the security of websites, ethically hacking the application to identify the loopholes of network security, system security and then fix them.
They have clients in aviation, banking, IT, Banking, Financial Services and Insurance (BFSI), Information Technology-Enabled Services (ITES), retail, and healthcare sectors from India, US, Saudi Arabia and UAE.
SecurEyes is security consultant for the government of India's 'My Gov' app since the last seven years and they are empanelled with various other government departments as well.
Some of their foreign clients include Etihad, Al-Rajhi Bank, Al-Mushraf Bank, Banque Saudi Fransi, Guardian and ANB and Axa Insurance (Saudi Arabia).
During Covid, SecurEyes worked on the safety evaluation of Arogya Setu app and PM Cares Fund.
Though the entire journey up till now seems like a smooth ride, the duo had their share of challenges while building the business. It was nothing less than a roller coaster ride.
"Getting recognised and creating trust with the companies was the biggest challenge," says Karmendra. "We learned everything on the job and I am happy to say that we are a self-financed and organically grown company."
They also had to deal with employee attrition as a growing company, but they took everything in their stride. As Karmendra observes, "You have to solve problems, learn and move forward. They are both a pleasure and a pain."
"When we embarked on this journey, we knew that the very nature of entrepreneurship meant that we had to fully embrace ambiguity and be prepared to take on challenges every day," says Seemanta.
"It's been an emotional roller coaster with tremendous ups and downs, but what always keeps us through the ups and downs is the trust that we've earned from our customers."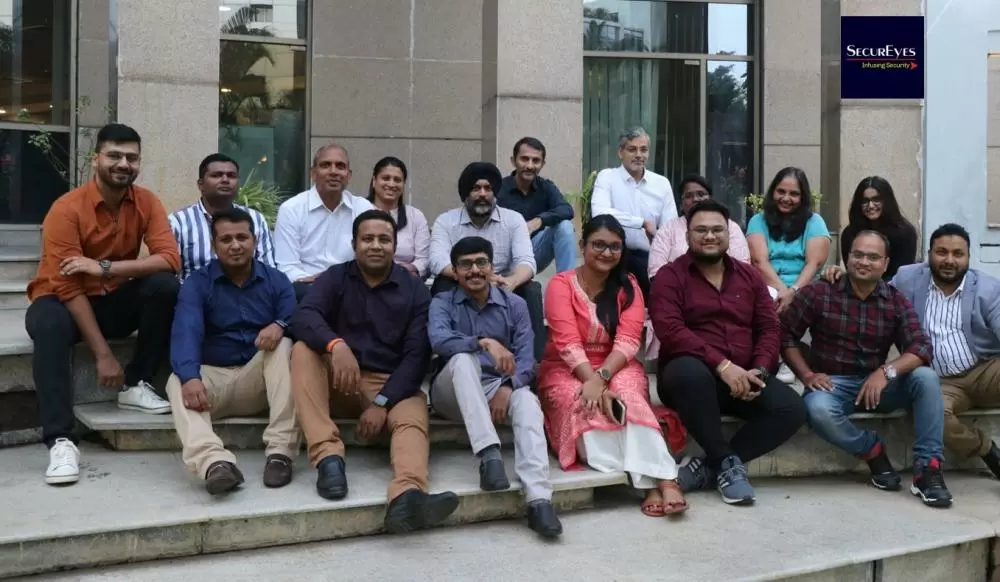 The founders with some of their employees in their Bengaluru office
He says mostly they get work through referrals and the trust that has been created over the years. "The reason for our large footprint in the market is our flexible approach, client-based solutions, extensive customization, and in-house technology and solutions.
"Almost 60 percent of our customers are through reference, where the quality of work delivered speaks for the brand and attracts new clientele."
In the initial days, SecurEyes registered itself with 'The Indian Computer Emergency Response Team' (CERT-IN), the government of India's nodal agency that deals with cyber threats.
They started bidding for small projects intiially, delivered it successfully on time, and bagged bigger projects later.
Karmendra hails from a middle class family in Cuttack. His father had a business of selling and supplying scientific instruments, while his mother was a stay-at-home mom.
Karmendra finished his Class 12 from Stewart School, Cuttack, in 1994, "I feel proud to inform you that I am an alumnus of the same school from where freedom fighter Subhash Chandra Bose studied," he says.
He then enrolled in B.Sc Geology (Honours) at Ravenshaw University, Cuttack, and graduated in 1997. He cleared the CDS (Combined Defence Services) exam and then the interview in 1998, and got job offers from both the Indian Army and Air Force.
Karmendra's elder brother is a senior officer in the Indian Navy, while his sister is a software engineer in Silicon Valley.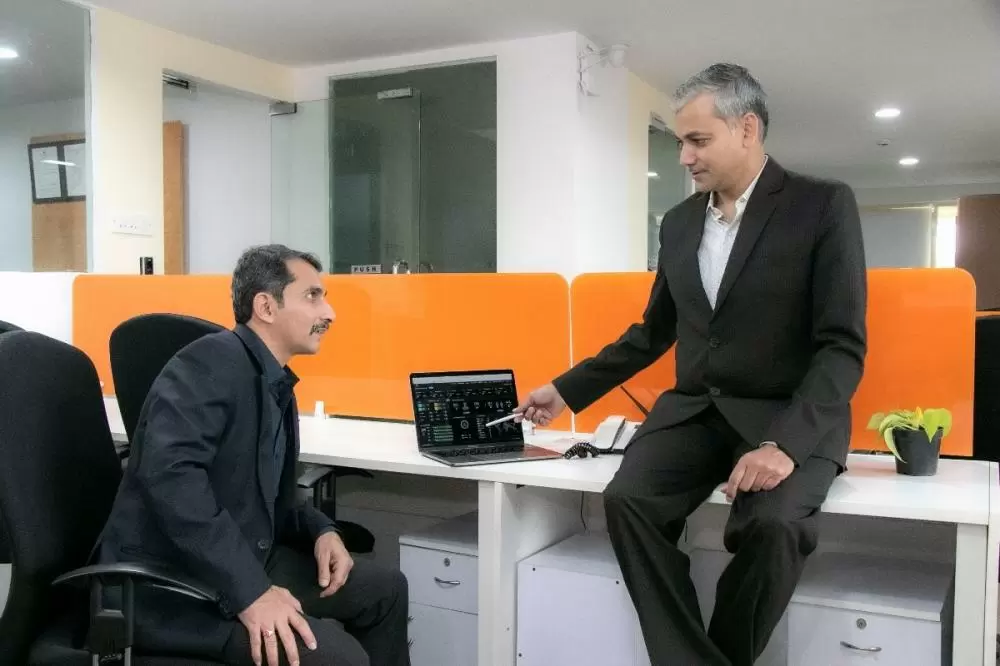 Karmendra and Seemanta bond well as they have been friends since their school days
"My father motivated all three of us to do whatever we wanted. He said we had the choice to choose our career," says Karmendra. "Since I was always inclined towards the IT sector, I pursued MCA leaving behind the defence services opportunity. Being in the IT sector was my dream."
Karmendra did his MCA from Utkal University, Bhubaneswar, where he was among the top five rankers, and even topped in a few semesters and finished the course in 2001.
Karmendra, 46, and Seemanta, 45, are school mates and later did MCA from the same university. "We have an unconditional friendship and we nurture each other," says Karmendra.
On the personal front, Karmendra married Sangeeta in 2005. They did their MCA from the same college and were colleagues at workplace for a couple of years before they got married. Sangeeta now works as a freelance cyber security expert.
The couple has two children, Arjun, 15, and Saatvika, 12. "When I quit my job to start my business, Sangeeta was the one who gave me a lot of moral and financial support. She continued her job, so I could focus on my business," recalls Karmendra.
While in college, Karmendra had played district level cricket. He likes to keep himself physically fit and active. "I do cycling, go for hikes and have also learned martial arts from a trainer in Bengaluru," he says.
Karmendra's suggestion to upcoming entrepreneurs is that if you plan something, then there should be no second thought. "If the time is off, then the dream is off. Respect your staff and the customer, because the customer is the key stakeholder in your organisation." – ©TWL

link