Jimmy Smits and Marieke van Beek both work at Deloitte Consulting. Having recently broken though their 5-year tenure at the firm, we spoke with them on their growth, projects, and what life is like at the global consulting giant.
Marieke van Beek joined Deloitte early 2018 as a graduate intern within its Technology Consulting practice. Not long after her start, she met Jimmy Smits, who similarly had started as a graduate intern in the same practice.
"We both started as graduate interns and we both wrote our thesis while working here," she recalls. Fast forward five-plus years, and Jimmy is still based in the Netherlands, while Marieke has taken on an 18-month secondment in Canada, where she works from Deloitte's office in Toronto.
Since joining Deloitte in a fulltime capacity, Jimmy has worked on multiple projects in various roles, including as an architect, a technical product analyst, and more recently as an engineering manager. "I have been part of large-scale projects. That means you're working with as much as 50 colleagues to develop a new digital product or service for a client. That is a really nice experience."
One of Jimmy's projects revolved around developing a lending engine for a large bank. "The banks' market share in SME lending was declining, due to their internal processes that were causing delays in the loan applications. In some cases, it could take up to two months to get a loan, and entrepreneurs were sometimes required to go the bank in person to deliver the paperwork."
"Also, FinTechs were emerging, so it was the right time to develop a digital challenger that would show entrepreneurs within 15 minutes whether they were eligible for a loan, and what their maximum borrowing capacity would be."
Deloitte was given the task to develop the project from the very beginning and handed the remit to use the latest technologies. "We built the platform on AWS, based on a containerised event-driven micro services architecture, orchestrated through Kubernetes. The micro services use an event bus to communicate a-synchronously. The entire infrastructure was written in scripts, which is also known as Infrastructure-as-Code."
But in the rapidly evolving world of technology, what was technologically advanced four years ago is today typically outdated. "We've shifted from using open source to cloud-native components. Also, we have a strong focus on serverless and automation of the CI/CD pipeline," says Jimmy.
Smart factory in Canada
Marieke meanwhile is currently involved in the launch a smart factory in Montreal. "This is an experience centre where we showcase cutting-edge manufacturing and warehousing technology. The smart factory enables guests to learn about and experiment with an array of live smart technologies in a fully automated factory and warehouse."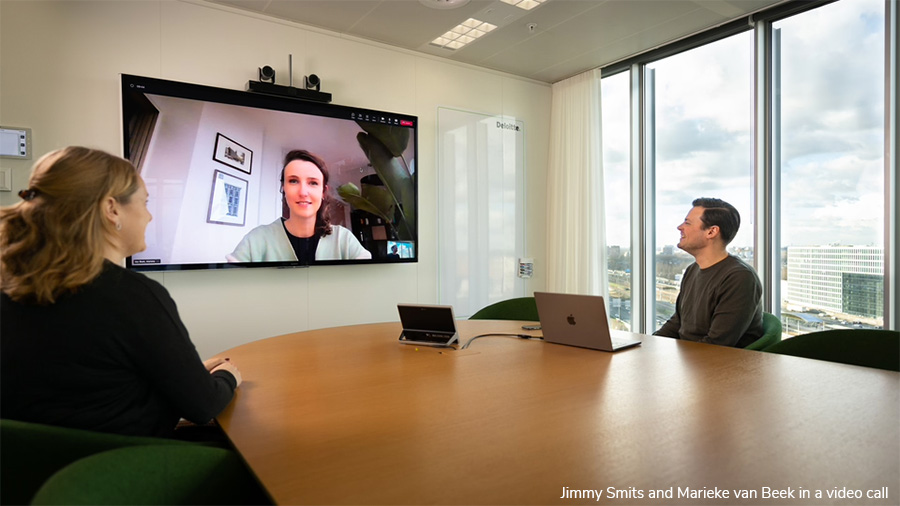 Marieke and her team implement use cases that were built by Deloitte, such as AI 4 Animals. This is an AI computer vision solution that uses AWS Panorama, aimed at improving animal welfare. Furthermore, they work with various partners to apply the latest innovations and technologies and to inspire clients with opportunities to optimise their processes.
"For instance, I'm currently implementing an 'Industrial Edge Device' to track overall equipment efficiently and energy management of simulated production process. With edge computing, data is processed right where it is generated which allows for real-time data analytics while the data remains in the smart factory."
Marieke is also working with telecom companies to set up a 5G network. "With such a network, robots, sensors and appliances can communicate more rapidly and efficiently, and we can apply real-time machine learning in order to increase productivity and safety at industrial sites."
Full of opportunity
Jimmy: "Deloitte offers unique opportunities to graduates. You can fully focus on your research topic and on your thesis. The support is amazing. A junior coach will help you on a daily basis, and a senior coach will get in touch with you every two weeks. Also, you're allowed to use all of Deloitte's client relations. I did many interviews at organisations I would otherwise never have been able to get in contact with."
According to Jimmy, Deloitte is full of smart, young people that show a sincere interest and are very open. "The opportunities that are offered, as well as the chances you can create yourself, make Deloitte a great employer. I've grown so much in such a short time. Deloitte has a strong focus on learning and personal development. You can follow many trainings and workshops, and take on many different roles."
Marieke adds: "Deloitte was very supportive when I indicated my desire to work abroad and facilitated the move to Toronto. What I also like, is that our cloud team is diverse and consists of people from all over the world. For me, that is a true value-add."
link