ITHACA, NY — Sixty percent of voters will have to approve the Ithaca City School District budget this year after the Board of Education proposed a 7.21% levy increase. The proposed budget in total is $148,944,098 for the 2022-23 school year — a 2.59% increase from last year's $145.2 million budget. The tax rate will hold study at $16.84 per thousand.
The tax levy is the total amount of funds the district deems necessary to raise through taxes — essentially one of the controllable streams of revenue. Other revenue streams include state aid, federal aid and reserves. At a Board of Education meeting in April, board members acknowledged that there's an impending funding cliff that is coming, as pandemic aid dwindles.
In the 2021-22 school year, the state received about $4.4 million in federal aid, while none of that is expected for 2022-23. State aid for the upcoming year increased about $46,657 while the tax levy, at the current formula, would bring in an additional $2.59 million from the year prior. However, with the increase of $4.3 million in the budget, plus the loss of federal aid, the school district has decided to ask for that $4.3 million in additional levy.
In the past, the district has tried to stick to the 2.5% tax levy cap placed by the state. Former governor Andrew Cuomo was a strict proponent of that cap, but since he's resigned, Superintendent Luvelle Brown said there won't be penalties for exceeding the levy cap.
He and others on the board attributed the jump in funding to inflation. To his point, the Association of School Business Officials (ASBO) said this is the first year where inflation has "far exceeded the maximum allowable growth factor that school districts use in calculating their district specific caps." A report from the association stated that school districts are facing challenges like escalating costs, labor shortages and supply chain disruptions.
The ASBO puts inflation for the 2021 calendar year at 4.69%, and said through the first few months of 2022 it grew to 7.68%. The report also noted that in recent years between 70-85% of school districts had tax caps that were higher than the rate of inflation, but for 2022-23 the reverse has occurred, with 92% of districts having tax caps lower than inflation.
On average, school districts get 58% of their revenue from local sources. State-wide, on average, 97% of budgets that fall within the tax cap are approved, while 67% of budgets over that cap are. If voters don't approve the budget, board members said they will likely look to the fund balance to meet the budget needs. The last time the budget exceeded the tax cap was 2014-15.
So how is all that money being spent?
By the numbers
The additional monies in this year's budget are spread across a few areas. The Board of Education itself will see a 5.87% increase in budget, with most of that coming from contractual services such as memberships and conferences. The board clerk will also get a small raise of $1,687, or 2.61%.
The superintendent's salary will stay flat at $249,501, while the clerical salary will decrease slightly by $1,285, or 1.94%.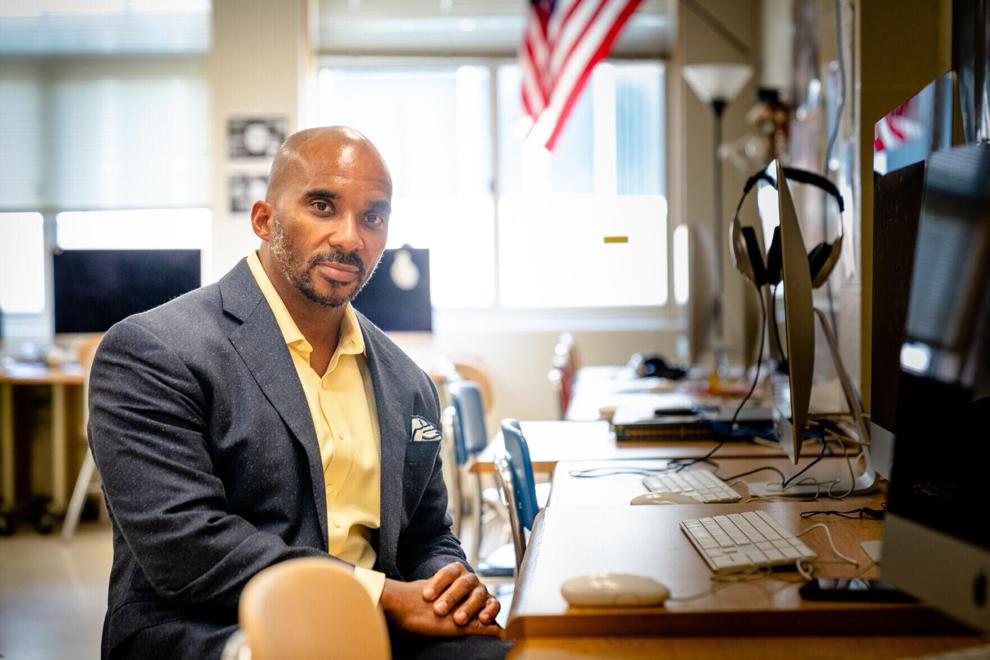 Business administration will see an over 8.02% increase, with additional funds going to "contractual services," attributed to increased cross-training and consultant costs. That will be an increase of $64,550, or 170.5%. Additionally staff salaries will cost an additional 22.47% overall.
A new human resources position was created, which contributed to a 31.19% increase in personnel costs overall. There's also a 386.56% increase in supplies and materials, with costs jumping from $5,210 to $25,350.
New communications positions are another major cost, with $199,978 going toward that. At the presentation of the budget in April, Superintendent Luvelle Brown said there was a focus on improving communications operations in-house, highlighting how they shift the funding from one line to another.
"This budget allows for us to transition some funds out of our BOCES line item, where we had monies to support communication, to in-house, where we're going to build that out internally," he said. "We're going to grow that support and enhance that support with someone who is going to be doing that work for us only, day-to-day."
Equipment costs for facilities will add $105,766 to the budget, with the maintenance budget jumping 12.36% overall. Part of that is the addition of five new positions — four in groundskeeping and one in maintenance.
The addition of multiple technology specialists will add $374,516 to the budget, and an extra $35,000 will be spent on supplies and materials.
Brown said similarly to communications operations, in the past decade the district has gone back and forth between taking care of technology support itself and relying on BOCES. The 2022-23 budget would see it shift to the district, which Brown claims will save money.
"It's always been to evolve and enhance our offerings, and I'm almost certain today we're spending less than we were spending on technology back in 2011. Period. Everything from hardware to staffing," he said.
A big chunk of change will go toward wireless routers for buses and a natural gas generator for transportation services. This will add $268,850 for a 742.71% increase. However overall transportation costs will be increasing by less than 7%.
Questions about the need for wireless routers on buses have been frequent at board meetings. At an April 26 meeting the board acknowledged that it feels like a luxury but that many students have long bus rides and do their homework on the bus. Additionally, it will allow for remote attendance taking on the bus, which is being billed as a health and safety benefit.
Of the $148.95 million budget, $105.6 million would go to salaries and benefits, $18.65 million to BOCES, $10.44 to debt services, and the remaining $14.25 million to "other." The district said the proposed budget preserves the jobs of all current instructional staff and maintaining benefits.
In comparison
With a total budget of $148,944,098 and about 5,341 students, the cost per student comes out to $27,886.93. For context we can look at school districts of similar size.
Rome City School District (RCSD) in Rome, New York, has 5,541 students. The city of Rome is home to about 32,217 people according to the 2020 census which is 1,502 more people than Ithaca's 30,715. The proposed budget for RCSD for the 2022-23 school year is $130,285,026 — a spending increase of 5.94% from the year previous and a tax levy increase of 2.5%. This comes out to $23,512.91 per student.
There are some differences in demographics, particularly that 47.2% of students in RCSD are economically disadvantaged according to US News, while in Ithaca that number is 21.7%. ICSD is more racially diverse than RCSD, and students in ICSD are generally better ready for college. Additionally, the graduation rate in Ithaca is 91.7%, while in Rome it's 78.5%.
Binghamton City School District (BCSD) enrolls around 5,250 students. The proposed budget for BCSD is $135,794,386, a $7 million increase or 5.4%. The tax levy, however, will stay within its limit at a 1.86% increase. This comes out to about $25,865.60 per student. According to US News, 51.6% of students at BCSD are economically disadvantaged and it is diverse than either ICSD or RCSD. The graduation rate is 73.6%.
Lancaster Central School District (LCSD) is proposing a $122.27 million budget for the 2022-23 budget. LCSD, located in western New York, enrolls about 5,500 students, breaking down to about $22,230.91 per student. There is an estimated tax levy increase of 2.58%, which is below their maximum cap this year. The budget overall would be an increase of 3.69%. The school is by far the least diverse, with 91.2% of students identifying as white. It's also a wealthier school district, with just 7.4% of students considered economically disadvantaged. The high school graduation rate is 96.6%.
For further context, according to the living wage calculator created by Massachusetts Institute of Technology (MIT), Tompkins County has the highest cost of living at $19.63 per hour for a single adult with no children. Oneida County (RCSD) comes in at $16.53, Broom County (BCSD) at $16.89 and Erie County (LCSD) at $17.76. MIT defines living wage as the hourly rate that an individual in a household must earn to support his or herself. The assumption is that they are working full time (2,080 years per year), and the person's budget covers basic needs plus all relevant taxes. The formula includes food costs, childcare costs (when relevant), healthcare costs, housing costs, transportation costs, broadband, other necessities and civic engagement.
Propositions and election day info
In addition to the vote on the budget, there will be three additional propositions on the ballot. The first is authorizing the district to appropriate up to $1,171,059.78 from its 2018 capital reserve fund for interior renovations and site work at Northeast Elementary School and to purchase six full-size Blue Bird gasoline wheelchair buses.
The next proposition would authorize the district to establish a 2022 capital reserve fund for a probably term of five years, starting on July 1.
The last proposition would authorize the district to convey a piece of real estate adjacent to Beverly J. Martin Elementary School to the City of Ithaca for an expansion of the gymnasium at the Greater Ithaca Activity Center. The property is about 1,312 square feet at 308 N Albany St.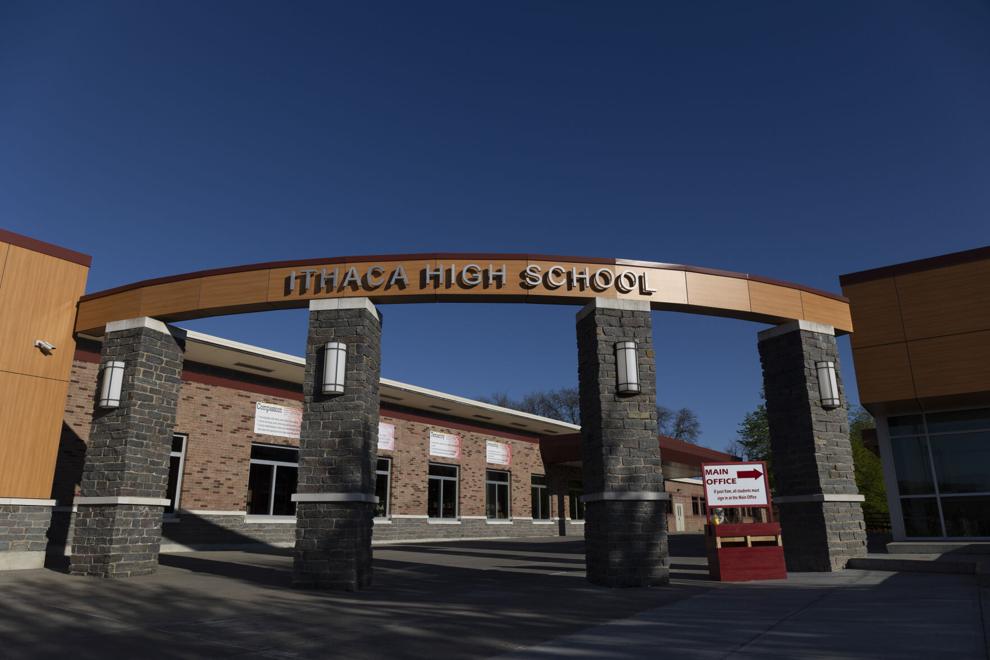 Additionally, three board members' terms are up — Rob Ainslie, Erin Croyle and Eldred Harris. All three are running for re-election, with Jill Tripp, Benjamin Mumford-Zisk, David Shapiro and Karen Yearwood running as well. Board member Kelly Evans recently resigned due for personal reasons after being elected last year. Her seat will also be open. The top three vote-getters will be elected to a full three-year term from July 1-June 30, 2025. The candidate with the fourth highest number of votes will finish the remainder of Evans' term, which expires on June 30, 2024. The state's teacher's union have endorsed Tripp, Mumford-Zisk, Yearwood and Croyle.
The vote is on May 17. Polls are open from noon until 9 p.m. at your polling site. For more information on candidates and polling locations, visit ithacacityschools.org/vote.