May 12, 2022
|
Bonnie Harper | Office of the Provost
Federated Schools of Accountancy M.Acc. Student of the Year: Bethany Kaufman
The FSA Student Award Program annually recognizes an outstanding student from each full-member school who is enrolled in the fifth year of a program leading to a Master of Accountancy. As an FSA member, Gonzaga faculty select a graduating student who exhibits the highest level of scholarship in the program.
Originally from Wooster, Ohio, Bethany Kaufman enjoys repairing and riding vintage motorcycles. She completed her MAcc degree here at Gonzaga and it is one of her proudest achievements to date alongside receiving this award. While at GU she was inducted into Beta Alpha Psi, the financial information student honor society. She shared that the program was academically rigorous and allowed her to develop skills in technology and data analytics alongside accounting.  
Bethany will begin a career with the Big 4 accounting firm PwC in Seattle as a technology consulting associate. She is passionate about helping organizations harness the full power of ERP and CRM systems and will be working with a team to implement new systems.
---
Master of Science Tax Student of the Year: Sam McEwan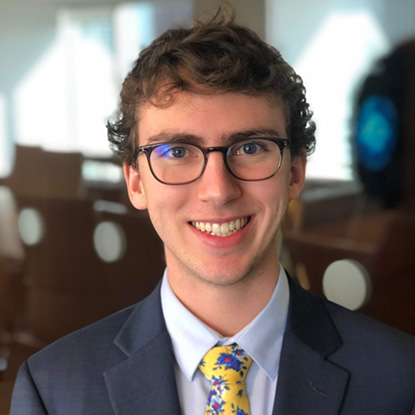 The Master of Science Tax Student of the Year Award is selected by the Graduate Accounting faculty recognizing overall academic excellence of a graduating student.
Sam McEwan hails from Boise, Idaho and completed his undergraduate degree at GU and earned his way onto the President's List. While at Gonzaga, he served as president of Beta Alpha Psi. Sam is known as reliable grad assistant, top student in every class, and the go-to tutor for undergrad majors and athletes in all things tax. Sam has had a positive impact on the GU accounting community.
Of the things he has accomplished at GU, Sam is proudest of passing all four sections of the CPA within four months while attending school fulltime and working two jobs. Sam shared that Gonzaga has taught him to research problems and come up with solutions and that outside of the classroom he has bee provided with great mentors and advisers who were instrumental in his future career plans.
Sam will begin his career in Seattle with Deloitte, a Big 4 accounting firm, in their Business Tax Services Department.
---
Graduate Accounting Director's Award: Jessi Bader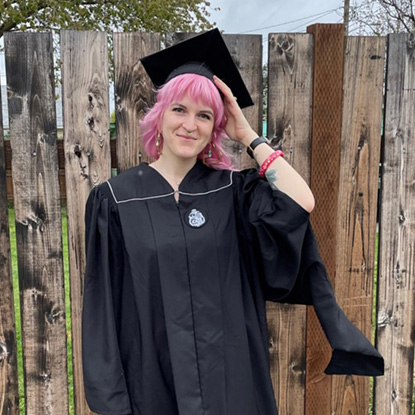 The Graduate Accounting Director's award is conferred on a graduating M.Acc or MS.Tax student selected by the program director with the advice of the faculty; it recognizes a student for excellence in the classroom and a promising career. 
Jessi Bader completed her undergrad at EWU and had no difficulty transitioning to life at GU. When she originally started on her post-secondary path, she wanted to be a laboratory scientist, but later knew she wanted to be a CPA. She exhibited excellence at all levels in every class. Few students have been more technical in Dr. Andrew Brajcich's time at GU. And he really appreciates Jessi for always being Jessi. She's super fun! Her hobbies include collecting J.R.R. Tolkien novels – around 56 different editions of his writings – and building, restoring and modifying motorcycles with her husband.
She is very proud to receive this award, particularly as a neurodivergent and non-traditional student. Of her experience in the School of Business' Graduate Program, she shared that the staff and faculty expected her best and gave her every resource needed for her to succeed. Her special thanks go out to Haley Topliff, Tina Swannack, Dr. Brajcich and Dr. Gary Weber. 
She will begin her career with the accounting firm BDO in Seattle remotely from Spokane. As her career grows, she plans to focus on data analytics – possibly pursing another graduate degree in data science. She also wants to work to correct the inequalities in our tax and financial systems and reduce barriers to exiting poverty.
Curious about Gonzaga's School of Business Graduate Programs?
link