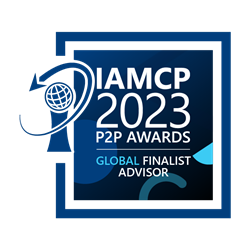 These two awards provide outstanding examples of partnering for mutual success resulting in better solutions for customers with improved business outcomes.

HOBOKEN, N.J. (PRWEB)
April 26, 2023
eMazzanti Technologies, a NYC area business technology consultant, MSP, and Microsoft Partner announced today that the company has been recognized as a 2023 P2P Award Finalist in the Advisor category of BOTH the IAMCP GLOBAL and IAMCP AMERICAS P2P Awards. Winners and finalists are selected by a panel of international judges from a pool of global entries.
"Congratulations to eMazzanti Technologies for being the 2023 IAMCP Global and Americas P2P Awards Finalist. This accomplishment is the community's highest recognition of excellence in partnering," said Paul Solski, International P2P Committee Chair.
"These two awards provide outstanding examples of partnering for mutual success resulting in better solutions for customers with improved business outcomes. In a global community that thrives on partnering, receiving this award is an impressive accomplishment."
Award-Winning Masterclass Series
According to eMazzanti's Advisor P2P Award submission, the company created a Microsoft Masterclasss Series that focuses on the productivty improvements from using Microsoft Modern Workplace solutions and Azure in conjunction with Skykick, a Microsoft cloud services company, offerings. In the last 12 months many of the over 975 attendee's to these workshops have turned into significant opportunities for the firm and contributed to eMazzanti's 40% year over year growth.
World's Largest Independent Community of Microsoft Partners
The International Association of Microsoft Channel Partners (IAMCP) is the world's largest independent community of Microsoft partners. Members meet to network, share insights, opportunities, and develop Partner-to-Partner (P2P) collaborative partnerships.
"Partnering with outstanding Microsoft Partners enables eMazzanti to focus on what we do best," said Carl Mazzanti, President, eMazzanti Technologies. "As we improve our core processes, such as project management, and deliver solutions from our partners, our customers receive world-class technology, education, and customer service from a trusted source."
P2P Award Finalist
The IAMCP P2P Awards contest is an annual event designed to recognize excellence in partnering activities with other IAMCP members. The contest invites submissions from members about their P2P activities in the previous year and identifies the best entries as judged by international leaders. The best entries are recognized with awards and receive benefits including promotional activities, publicity, and Microsoft recognition.
"We are delighted to be recognized by the IAMCP as the Global and Americas P2P Award Finalist. As a company, we build partnerships to enhance the breadth and depth of our solutions and do business smarter. With its numerous P2P initiatives, the IAMCP makes partnering easier," related Jennifer Mazzanti, CEO, eMazzanti Technologies.
Also Recognized by NJBIZ as a Leader in Digital Technology
eMazzanti also recently received recognition from NJBIZ, who named the company a recipient of the 2023 Leaders in Digital Technology Award, presented by NJBIZ. The award recognizes companies and individual innovators who have demonstrated excellence in technology and leadership by making a difference in the digital space.
Managed IT Services, Microsoft Dynamics, and Cloud Solutions
In addition to managed IT services, information governance, and Microsoft Dynamics solutions, eMazzanti provides a selection of cloud services, including its comprehensive e365 offering to meet the evolving business technology needs of customers worldwide. Options include Microsoft 365, eCare Cloud Backup and eCare Secure Route cloud-based cybersecurity. Customers have responded enthusiastically to these proven cloud offerings, expanding the size of eMazzanti's market.
"Businesses of all sizes increasingly rely on the cloud for remote access to critical applications," stated Almi Dumi, CISO, eMazzanti Technologies. "eMazzanti, with a history of remote operations and public, private, and hybrid cloud expertise, is well-positioned to help them with a complete solution."
Have you read?
NJBIZ Honors eMazzanti Technologies with Leaders in Digital Technology Award
What is Cyber Security? 6 Steps to Supporting Profitability and Preventing Chaos
About The IAMCP
IAMCP is a professional association of Microsoft partners dedicated to helping companies and individuals in the "Microsoft ecosystem" to broaden their base of business opportunities through partnering with other IAMCP members – both within their own communities and around the world. The association is organised in chapters across three main regions: Americas, APAC, EMEA.

About eMazzanti Technologies
eMazzanti's team of trained, certified IT experts rapidly deliver increased revenue growth, data security and productivity for clients ranging from law firms to high-end global retailers, expertly providing advanced retail and payment technology, digital marketing services, cloud and mobile solutions, multi-site implementations, 24×7 outsourced network management, remote monitoring, and support.
eMazzanti has made the Inc. 5000 list 9X, is a 4X Microsoft Partner of the Year, the #1 ranked NYC area MSP, NJ Business of the Year and 5X WatchGuard Partner of the Year! Contact: 1-866-362-9926, [email protected] or http://www.emazzanti.net Twitter: @emazzanti Facebook: Facebook.com/emazzantitechnologies.

link